With its product line addressing multiple unmet health needs on the global market, this company has all the right tools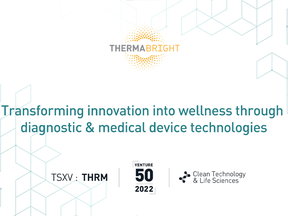 Article content
The company is well-positioned to serve the COVID-19 diagnostic market as well as the growing global market for other healthcare products
As one of this year's TSX Venture 50 winners, Therma Bright Inc. (TSXV:THRM) is a medical technology company driven to provide consumers and medical professionals with quality, innovative solutions that address some of today's most important medical and healthcare challenges.
The company developed the AcuVidTM COVID-19 Rapid Antigen Saliva Test, enabling economies to open and stay open by offering a simple, low-cost antigen and antibody rapid screening test for COVID-19.
Some of Therma Bright's other health solutions:
The Venowave: is a medical compression pump that is lightweight, compact, battery-operated, designed to treat and alleviate the symptoms associated with poor circulation
The Benepod™: helps with the relief of chronic pain, such as osteoarthritic joint pain, migraine headaches, neuropathic pain and many other chronic musculoskeletal aches and pains as well as short term painful issue
The InterceptCS™ Cold Sore Prevention System: the first clinically proven and approved for the prevention of cold sores
The TherOZap™ thermal therapy: will aim to reduce the inflammatory response, relieving the symptoms of pain, itch and inflammation associated with insect bites and stings
Find out more about how Therma Bright Inc. is transforming the medical field by visiting their website here.
Make sure to follow Therma Bright Inc. to see their latest updates:
– – – – – –
The 2022 TSX Venture 50 is a ranking of top performers on TSX Venture Exchange over the last year. The ranking is composed of 10 companies from each of the five industry sectors, and they were selected based on three equally weighted criteria: market capitalization growth, share price appreciation and trading volume.
For the full 2022 TSX Venture 50 ranking, methodology and profile videos of companies included in the ranking, visit www.tsx.com/venture50.
Canada's Top Public Venture Capitalist 2022
You're invited to participate in a stock trading simulation contest featuring this year's top 50 performing public venture companies on TSX Venture Exchange. The ranking is composed of 10 companies from each of five industry sectors, selected based on three equally weighted criteria.
Register now for Canada's Top Public Venture Capitalist Contest: https://v50.stocktrak.com/members/register 
Contest details:
Each registrant will be provided an initial balance of $50,000 of virtual cash in their contest portfolio account (no actual money will be involved) and asked to build a portfolio based on this year's TSX Venture 50. Be sure to watch the corporate videos, available on the site, to learn more about the companies.
Contest trading began Thursday, March 3, 2022 and ends at 4 p.m. ET on Thursday, April 28, 2022. The Contest winner will be announced on May 13, 2022.
This story was provided by Market One Media Group for commercial purposes.

link