The holiday season is upon us. For families, friends, organizations and businesses it is a time for entertaining.
Providing great food to groups, either large or small, can be stressful. Fortunately, there are experts available to not only relieve that stress but provide guests with an experience they will never forget.
Soloman Tainui and Erika Bazuik recently started Heart and Sol Catering in Timmins. Both have extensive backgrounds as chefs. They believe food is much more than just physical nourishment.
"Eating is an experience," Bazuik said. "Everything comes together. It's visual. It's texture."
"It's emotional," Tainui said. "You're tapping into things that people haven't tasted but brings back memories. There are connections between what mom or grandma used to make."
They have already catered a number of notable events in Timmins. They catered for Timmins Mayor Michelle Boileau on election night. They have done events for MPP George Pirie, before and after his successful election bid. They even catered a private local event for Ontario Premier Doug Ford.
"At Michelle's, the crowd was so excited," she said. "It just had the best energy in the room. It was an excellent event, it was fun."
"We did a lot of George's events," he said. "Last Friday, we did the premier's … it was a private group. The feedback has been amazing. They said that it's some of the best food they've had campaigning.
"They asked us to move to Toronto," Erika added. "We said no."
'A happy accident'
Even though they hit the ground running with the business this year, catering was not the original plan when they moved to Timmins.
Both have an extensive background in the culinary arts.
Tainui is Australian and grew up in New Zealand. He has been a chef for 25 years, including high-profile positions in New Zealand and Australia. He has extensive experience in high-volume catering.
"I had 35 chefs under me," he said. "It was high-end catering. We were the fifth preferred catering in Melbourne, a city of five million. We were at the largest scale productions, such as the Grand Prix and lot of corporate functions. It was a great place to be and work."
Bazuik started her career as a chef in Timmins.
"I started when I was 15.  One of my first jobs locally was at The Senator Hotel and also worked at Spruce Needles Golf Course," she said. "I went to school in Toronto, to Humber College for their chef training. Then I worked in Niagara on the Lake, then I went to Montreal where I worked for about eight years. I worked with some very known people and restaurants, the people who own Joe Beef, those were the first chefs I worked with in Montreal. Chuck Hughes also worked with me there at the same time.
"One of the reasons I became a chef (is) I wanted to be able to live anywhere I wanted in the world. By the time I was 28, I had only lived in Canada."
Following the advice of friends, she moved to Australia.
"I ended up moving to Melbourne, got a job in a Three-Hat restaurant (similar to Michelin Star rankings)," Bazuik said. "The same owners also owned a catering business, which is where Sol worked. That's how we met, working together in the kitchen.
"Near the end of my first year, decided I did not want to continue working in kitchens. I was with Lululemon for almost eight years. I had management experience in the kitchens, I was able to use that, running a department of strategic sales."
They came to Canada and, after a brief stop in Montreal, moved to Victoria, B.C. Besides being the capital of British Columbia, Victoria is a high-end tourist area. Tainui ran two of the largest brew pubs in Victoria.
"They had the highest sales," he said. "My take on food was different than anyone else locally."
Erika made great strides in her management career, earning an MBA in management logistics.
"I ended up running an office for a general contractor and worked for the B.C. government as a project manager."
Then COVID reared its ugly head, impacting the lives of all Canadians. Its impact was particularly devastating to the food service industry.
The couple and their two children moved to Timmins.
"We came to Timmins because of the cost of living in Victoria," Tainui said.
"When everything closed for the pandemic, he was working as an electrician," Bazuik said. "We had concerns with the industry because of the pandemic. When we got here, the apprenticeship position he had lined up fell through.
"Because my family is from here, people knew Sol's background as well as mine and asked us to cater."
"Organically, everyone found out we could do catering," he added. "It was a happy accident."
Bazuik has since earned the position of project manager at Centre de santé Communautaire de Timmins (CSC Timmins), the francophone healthcare centre.
Balancing family life with careers made catering attractive for the couple.
"We got to a point where he had an offer to continue his apprenticeship, but at the same time had someone contact us to do a 180-person wedding brunch," she said. "And there was another big party. We had to make a decision, either say yes to these nice big catering jobs coming up or accept the apprentice position. We moved toward the catering at that point.
"We felt like life was pushing us in that direction."
"A big part of it was family," Tainui said. "We have to navigate within the kids and Erika's position, so we switched rolls. I'm supporting Erika in her position, giving her the flexibility and freedom to do her job as well as us doing catering and me maintaining the kids. There's a lot of hoops to jump through, but we enjoy it."
A unique position
Their international experience puts Heart and Sol Catering in a unique position in Timmins.
"There are a lot of different cuisines that people haven't seen but are interested in," he said. "It's great to have that mobility and freedom to design and menu and do events. When you're doing events, it's a showcase. You're presenting all your knowledge and culinary abilities within the space that you've been given and that dictates the menu you are able to offer."
In a short time, Heart and Sol has developed a reputation for great food.
"We've done a few weddings. Christmas parties and private dinners," he said. "There aren't many limitations. We can navigate between 100-plus for a wedding, if not more. We did 180 for the wedding brunch and it was a hot breakfast. We do private dinners up to 10 to 20-plus, weddings up to 100-plus.
"We can offer basically any type of cuisine, which is different. We can do Spanish, Brazilian, Chinese, we're doing Thai. We have an international palette. As a chef, it's not hamburgers and French fries. It's different countries, different cuisines, different methods, different types of food and styles. We are able to pivot and move within the client's expectation."
"We can do a variety of different levels of quality," Bazuik said. "One of the first parties we did was a group of 24 plated dinner and all the food was middle eastern Arabic style share plates. In mid-December we're doing a birthday party where it's approximately the same size group and it's all Thai. They're looking for something a bit higher-end. It's unique than if you were going to a traditional Thai restaurant, it's a higher-end Thai.
"With the breakfast group, they were French Canadian, so they wanted a French Canadian theme to it. They gave us Grandma's bean recipe and he made it for 180 people and they loved it."
'We use what is local to Timmins'
Using local ingredients is an important part of Heart and Sol Catering, using both farm and foraged food.
"A neat thing about Timmins, like on our property for example, we have so many varieties of mushrooms that grow," she said. "We use what is local to Timmins and leverage that when he's planning his menus."
Tainui said the business has "changed over the last 10 years, it becomes a lot more boutique. You have to be more in tune with where you are and what's available.
"Even this summer, were able to find so much forage food you could use around us, and farms. We have a relationship with Rubber Boot Farm, they're amazing. We see what they grow and how they adapt to the environment.
"We eventually would like to pivot and go in that same direction. We want to have vegetables grown on the property.  A lot of boutiquey stuff people don't think about … a lot of products like micro herbs. It can be challenging to find those. We're looking to those relationships to help us and the community around us."
Bazuik handles a lot of the management tasks for the business.
"I do a lot of the client communication and administration," she said. "Because of my chef background, I can always hop in the kitchen to help out there.
"We do have a menu that we give to people now. At first the plan was all customization because the plan wasn't necessarily to stay in catering. But now we do have a menu and we do different styles, we have family style, we do plated, we do buffets, grazing. One of the ones people really enjoy is bowl dishes and handhelds. They are bigger than canapes, so they're great for cocktail parties."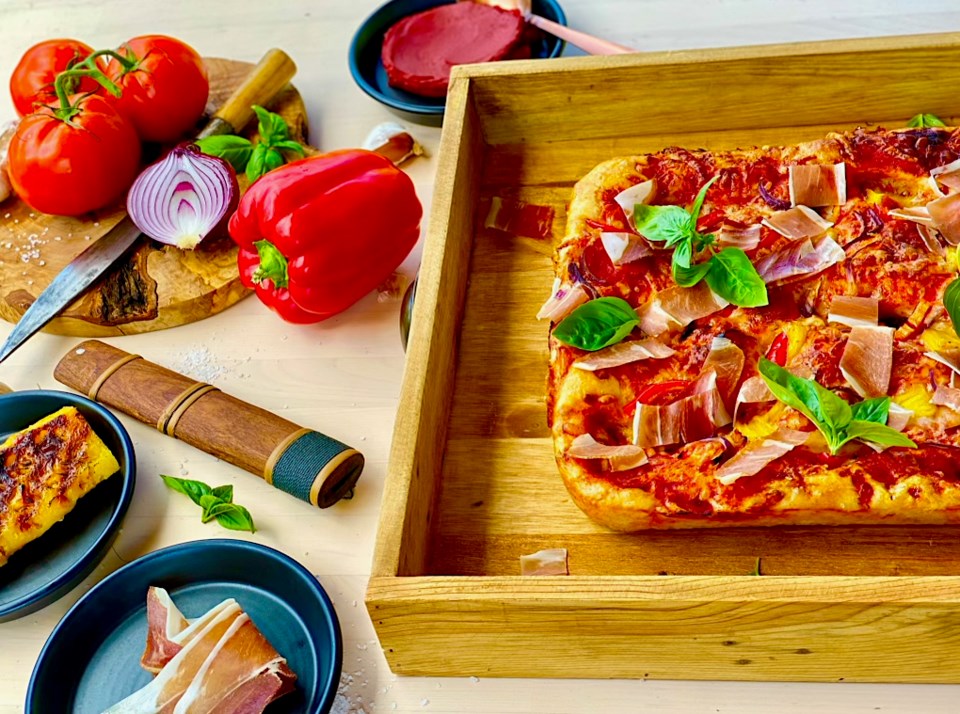 They have also introduced a sub-brand of high-quality pizza, called What the Focaccia.
"It's a focaccia, a whole hotel pan and takes six hours to make," Tainui said. "We even eat it the next day for breakfast, with a fried or poached egg added."
"Pizza is great for corporate luncheons or for a party," Bazuik said. "It has been a great late-night snack for weddings. It's a very accessible product. Because it's pizza, it's not as expensive as some of our other products. If you're feeding a large group, it's probably the most cost-effective and it's delicious."
Catering for a small dinner party definitely helps the host deal with stress.
"It's a lot of work," she said. "They get to relax and enjoy their company. And we do the cleanup afterwards."
"Then you get to offer them something unique that they may not have had before," he said. "It's where they can relax. There is nothing better as a chef than when someone else cooks for you."
The reaction to the food experience provided by Heart and Sol Catering has been encouraging.
"A lot of the feedback we've been getting is overwhelming and positive," he said. "Personalizing a breakfast, dinner or whatever for them. Like I said it's the emotions, those memories and everything else, trying to engage with the food.
"That's what catering is. You have a client. You have a venue. You design a menu around your environment. There's a lot of intimacy. From my end as a chef, it's making people happy. You hear the feedback. It's more satisfying."
They are delighted to provide their creative cuisine in Timmins.
"It's great being in Timmins," he said. "It's one of the best things we've done, we've lived in different parts of the world and big cities."
"There is nothing like coming back to your roots and being more grounded being in tune with your environment to provide what we want to provide," she said.
Contact Heart and Sol Catering by phone at 778-977-5994, by email at [email protected] or on Instagram.

link