CVS Health
I purchased CVS (NYSE:CVS) in 2020 after the stock price plunged down to ~$52, while it unfortunately was included in the lawsuits involving the company's alleged mishandling of opioid prescriptions. Good news is that the law suits have been settled, however it will endure a known $5.2 billion pre-tax charge and can plan for the payment. First a bit about it and why it's becoming more interesting.
CVS Health Corporation, headquartered in Woonsocket, RI, is known as a US drugstore chain that manages prescription drugs and pharmacies along with offering primary care. It has been incorporating healthcare benefits and insurance after purchasing Aetna in 2018 for $69 billion. The debt burden has been reduced, with it selling and receiving $2.5 billion, even though at a loss, from selling its non strategic Omnicare business in late 2022. However, it is using that $ to confidently purchase more revenue through 2 healthcare businesses; Oak Tree and Signify Health.
Oak Tree Health of Rhode Island was acquired for $10.5 billion in 2022 and now it is in a closing agreement to obtain Signify Health of Dallas, TX. for $8 billion. This debt is not as large or significant as the Aetna purchase back in 2018, over 5 years ago, which has been extremely lucrative to the healthcare goals and providing revenues. Signify Health is a leader in health risk assessments, value-based care and into Medicare Advantage with more than 10,000 clinicians across all 50 states with proprietary analytics and technology platforms. Both of these are expected to provide anticipated quality revenue in the future.
Dividend
The purchase of Aetna was a heavy weight which management realized and warned about it having to hold dividends at the current level of $2/ year. It stayed that way for 4 years from 2017 to the end of 2021.
The dividend was raised 10% in 2022 to $2.20 and now it has just announced another 10% raise to $2.42 for 2023. The quarterly payment went from 55c to 60.5c, which was paid Feb 1st. This is making up nicely for those 4 years of 0% raise. The FASTgraph shown under that section below shows the dividend information as mentioned. The dividend is covered and therefore it should be safe for many years.
Earnings
Earnings for 2022 rose and the Yahoo Finance chart below shows they are beating analyst estimates.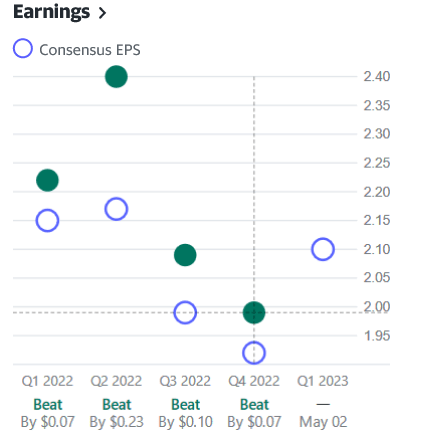 Value Line suggested CVS saw Improvements broadly across business lines, led by 10.7% growth in Pharmacy Services. Retail posted high-single digit growth, reflecting resilient COVID test kit demand and higher pharmacy claims volumes, as did health care benefits.
FASTgraph
The following colors/lines on the chart represent the following:
Black line = price
White line = dividend
Orange line = Graham average of usually 15 P/E "price/earnings" for most stocks.
Blue line = Normal P/E
Dashed or dotted lines are estimates only.
Green Area represents earnings.
Statistics by year are noted for high and low prices at the top of each chart in black and for earnings and dividends at the bottom of it. The % shown is for the change from year to year for earnings.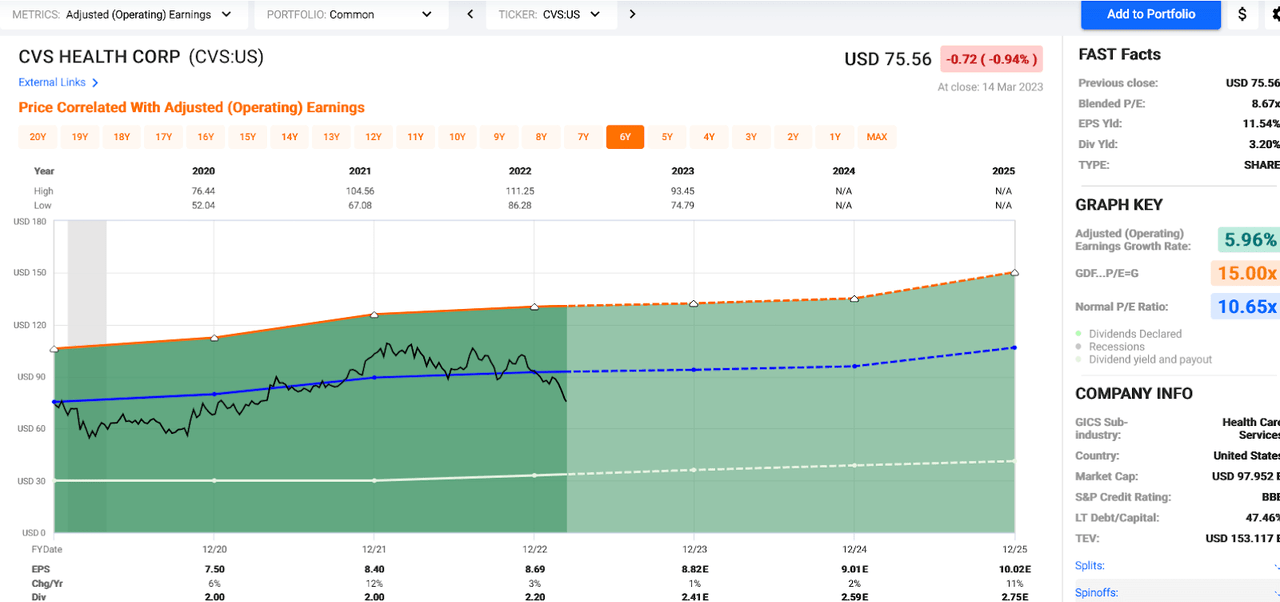 Earnings for 2023 and 2024 are moderate near 2%, but 2025 is more robust and estimated (the dotted line) to be 11%. The dividend also looks to be raised, but at a more modest level.
CVS is currently selling at 8.6x earnings with the normal blue line P/E of 10.6x shows it's undervalued. It has potential earnings growth of ~6%.
Price
As noted above the price for normal 10.6x earnings of $8.82 for 2023 = $93.42. That is far above where it's selling today.
The higher earnings in 2021 and the rising dividend gave the price some momentum and it rose easily above the $100 level in 2021. It got over valued and the yield fell to ~2%. With interest rates now rising, even with a 10% dividend raise the yield is no longer attractive to many investors and the price has been falling again.
Current price as I write this is $75.29. Yield at that price is 3.2%.
Morningstar analysts have a 5* "cheap buy" price on it of $79.10 and fair value of $113. Value line suggests a midpoint of $110 as fair value for 2024. Yahoo Finance analysts suggest a modest buy rating of 2.1 and a future pricing near $113, as shown below: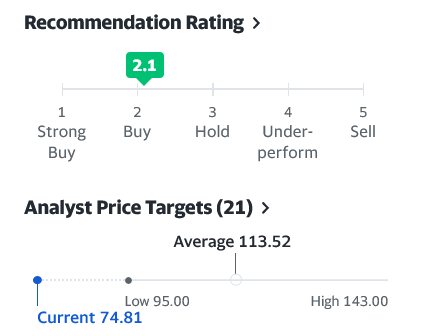 Indeed, it's under valued, but it could go lower.
Summary/ Conclusion
CVS is a solid quality BBB credit rated company with a now attractive valuation, strong balance sheet, healthy and a stable free cash flow in its transforms to a holistic health care provider and seller of insurance. A trading alert was issued at the service to add to the position recently when it went over the 3% yield level. The dividend growth rate is 10% for the last 2 years and that is reason enough alone to add more and watch. I see it having a great future, but patience will be needed as it develops. The current dividend yield and nice dividend growth can meet or even beat the current inflation rate of 6+%. Therefore, I recommend owning it, and would suggest a starting position and to add on as this current market turbulence for healthcare stocks ebbs.
Happy Investing All!
Macro Trading Factory is a macro-driven service, run by a team of experienced investment managers.
The service offers two portfolios: "Funds Macro Portfolio" & "Rose's Income Garden"; both aim to outperform the SPY on a risk-adjusted basis, in a relaxed manner.
Suitable for those who either have little time/knowledge/desire to manage a portfolio on their own, and/or wish to get exposed to the market in a simple, though more risk-oriented (less volatile), way.
Each of our portfolios, spanning across all sectors, offers you a hassle-free, easy to understand and execute, solution.

link