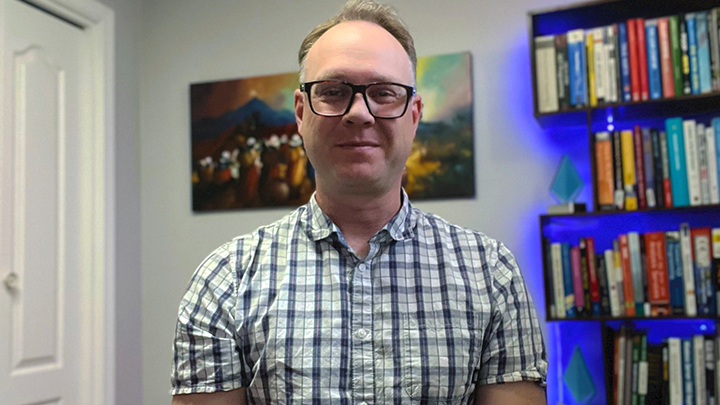 One of my favourite expressions is this — 'If you hate it, automate it' — especially when it comes to the high-volume, boring parts of work that people just hate doing, says Jesse Tutt, program director, IT Intelligent Automation. The innovative work of Tutt and his colleagues is winning global recognition while supporting Clinical Care. Photo supplied.
Intelligent automation 'frees people to do what they're good at'
Story by Gregory Kennedy
Creative innovations to ease the burden of mundane work and free healthcare staff to focus on their people skills have won Alberta Health Services (AHS) global recognition, as well as two prestigious Blue Prism Customer Excellence Awards.
The achievements come in the field of intelligent automation — which combines the power of artificial intelligence and machine learning to automate as many steps as possible in business processes — while using the software of Blue Prism Group plc, a British multinational corporation and pioneer in the field.
"The Blue Prism Customer Excellence Awards celebrate the many ground-breaking successes our customers have achieved with their digital workforce in building the future of work," says Emma Kirby-Kidd, head of Robotic Operating Model, who announced the international awards in London on June 22. "These awards showcase our customers' inspiring innovations, creative projects and bold use of Blue Prism to transform their businesses and free their people to do what they are good at."
AHS won the Business Value Driver – Global Award, and the Best Newcomer – Americas All-Star Award, out of more than 180 submissions considered by the Blue Prism judging panel.
"Congratulations to our Blue Prism award winners," says Sean Chilton, VP People, Health Professions and Information Technology for AHS. "Their work is helping to transform AHS by developing automation programs that create efficiencies and allow us to reinvest and support Clinical Care. We are very happy with the results from our automation strategies to date and are excited to see the program growing."
Over the past 18 months, AHS' has successfully designed 'digital workers' to take on many of the repetitive, time-consuming tasks such as job-offer letters, completing forms, financial spreadsheets, patient refunds, staffing documents, reports and more.
By shaving minutes here and there, intelligent automation has already benefited departments such as Human Resources, Provincial Staffing Services, Information Technology (IT), and Contracting, Procurement and Supply Management (CPSM), among others — and freed up time equal to 17 full-time jobs —  which has added much-needed capacity and flexibility to these departments during the COVID-19 pandemic.
"Robotic Process Automation (RPA) technology is pretty cool. It literally mimics the work that people do," says Jesse Tutt, program director, IT Intelligent Automation. "It can mimic the keystrokes and mouse clicks of people for very simple tasks. It's not something that's going to automate a person, but it can automate specific steps in a task.
"One of my favourite expressions is this — 'If you hate it, automate it' — especially when it comes to the high-volume, boring parts of work that people just hate doing. We're not taking people's jobs here — we're freeing up capacity that people can use to actually catch up on all their other work, especially at a time when the demands on Clinical Care are so high."
"We are really proud of our teams who have collaborated to make our intelligent automation journey successful so quickly," says Penny Rae, chief information officer, Information Technology. "This work frees our staff from repetitive tasks to do things they find more creative and interesting."
Tutt gives the credit to the many business-area leaders and staff (more than 100) who have stepped up and submitted automation opportunities to his team of 17 (about half are practicum students) and to other key roles in IT who have joined this quest to eliminate drudgery and streamline repetitive tasks.
"The improvements we've made have taken a lot of work, a lot of people and a lot of sweat — but we're super-happy right now (with winning two awards)," he says.
And the work is ongoing, as Tutt and team seek out fresh challenges.
"We're doing what's called 'process mining' where we extract data — for example, from the purchase-order invoicing process — that will allow us to understand the specific steps, and how long it takes between the steps, so we can create a 'process map' of that process. The intention is to use this data to identify more automation opportunities."
Michael Lam, chief program officer, Financial Operations, adds: "In only our first year we've already seen tremendous success in standing up the automation program, and creating or freeing up capacity in a number of areas such as HR, staff scheduling, CPSM and Finance.
"We are looking forward to continuing and expanding this important work to assist the organization in becoming more efficient, effective, and improving quality and the patient/customer experience as we move forward."
link